Surrealism-Plays is a site devoted to the history and creative works of the Surrealist Movement, as well as the anti-tradition of avant-garde theatre.
VIAJE A LA LUNA (TRIP TO THE MOON)


by Federico García Lorca (1929)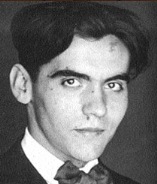 1
White bed against a grey wall. A dance of the numbers 13 and 22 appears on the bedclothes. From two they begin to multiply until they cover the bed like minute ants.
2
An invisible hand pulls off the bedclothes.
3
Big feet run quickly wearing extravagant, black and white lozenge-pattern socks.
4
A frightened head stares at a point and fades into a head made out of wire with a background of water.
5
Letters saying Help Help Help, moving up and down, double-exposed over a female sexual organ.
6
Length of a long corridor passed through by the camera with window at the end.
7
View of Broadway at night with a tick-tock movement. Which fades into the previous scene.
8
Six legs swing to and fro very quickly.
9
The legs fade into a cluster of trembling hands.
10
The trembling hands, double-exposed over a crying boy.
11
And the crying boy, double-exposed over a woman who is giving him a beating.
12
This hiding fades into the long corridor again, the length of which is covered by the camera at high speed.
13
At the end, a close-up of an eye double-exposed on fish. Fades into the following:
14
Rapid fall down a roller coaster in blue, double exposed over letters that read: Help Help.
15
Each word Help Help fades into a footprint.
16
And each footprint, into a silkworm on a leaf against a white background.
17
From the silkworms a large death's-head emerges and from the death's-head a sky with a moon.
18
The moon is cut open and there appears a drawing of a head vomiting and opening and shutting its eyes. It fades into...
19
two children walking along and singing with their eyes closed.
20
Heads of the singing children covered with inkspots.
21
A white surface on which drops of ink are spattered. All these scenes quick and very rhythmical. Here a sign saying: Not Through Here.
22
Door.
23
Out comes a man wearing a white coat. From the opposite side a boy enters wearing a bathing costume with big black and white checks.
24
Close-up of the checked bathing costume on a double exposure of a fish.
25
The man in the white coat offers the boy a harlequin's costume, but he refuses it. Then the man in the white coat grips him by the neck. The boy screams, but the man in the white coat stops up his mouth with the harlequin's costume.
26
Close-up of hands tightly gripping the harlequin's costume.
27
Fades into a double exposure of sea-serpents from an aquarium, and these into crabs from the same aquarium and these into other fish, all done rhythmically.
28
A live fish held in a hand, in close-up, until it dies and then advances with its little mouth open until it covers the lens.
29
There is a close-up of the inside of the fish's mouth in which two fish are writhing in their death throes. These turn into a kaleidoscope in which a hundred fish are writhing or throbbing in their death throes.
30
Title: Trip to the Moon.
Room. Two women dressed in black are sitting down, weeping, with their heads lying on a table on which there is a lamp. They are stretching their hands upwards.
31
Shots of their hands and the upper part of their bodies. Their hair has fallen over their faces and their hands are made up of twists of wire.
32
The women continue lowering their arms and raising them to the sky.
33
A frog falls on the table.
34
Double exposure of the frog seen close-up against a background of orchids shaken back and forth furiously. The orchids disappear and there appears the outline of an enormous head of a woman vomiting which changes quickly from negative to positive and positive to negative.
35
A door is slammed and another door and another and another on a double exposure of the women raising and lowering their arms. As each door shuts, words will appear saying...Elena Helena elhena eLHeNa.
36
The women rush to the door.
37
The camera goes down the stairs quickly and rhythmically and in double exposure ascends them.
38
Triple exposure of going up and down stairs.
39
Double exposure of bars which pass over a drawing: Death of Saint Radegund.
40
A woman dressed in mourning falls down the stairs.
41
Close-up of her.
42
Another very realistic view of her. She is wearing a headscarf in the Spanish style. Exposure of her nostrils shedding blood.
43
Her head face down in double exposure over a drawing of veins made three- dimensional by means of large grains of salt.
44
The camera, from below, focuses on the stairs and goes up them. At the top the naked figure of a boy appears. His head is like an anatomist's model with muscles, veins and tendons. The circulatory system is drawn on his naked body. He drags along a harlequin's costume.
45
He appears from the waist up. And looks from side to side. Fades into a street at night.
46
Soon after, in the street at night, there are three figures wearing overcoats who are obviously cold. Their coat collars are turned up. One man raises his head to look up at the moon and the moon appears on screen. Another looks at the moon, and a bird's head appears in close-up. Its neck is squeezed until it dies in front of the lens. The third man looks at the moon and an outline of a moon appears on screen against a white background that fades into a sexual organ and the sexual organ into a screaming mouth.
47
The three of them run away along the street.
48
The man with the veins appears in the street and freezes as if crucified with his arms outstretched. He goes forward by jump cuts.
49
He fades into a criss-crossing in triple exposure of express trains.
50
The trains fade into a double exposure of piano keyboards and hands playing.
51
Fades into a bar where there are several boys dressed in dinner jackets. The waiter pours them wine, but they cannot raise it to their mouths. The glasses become extremely heavy and they struggle in the anguish of dream. An almost totally naked girl enters with a harlequin and they dance in slow motion. They all try to drink, but they cannot. The waiter does not stop filling their glasses which are already full.
52
The man with the veins appears gesticulating and making signs of exasperation and movements which convey life and quick rhythm. All the men remain drowsy.
53
A head stares stupidly. It comes up to the screen. And fades into a frog. The man with the veins squeezes the frog with his fingers.
54
A sponge and a bandaged head appear.
55
Fades into a street. The girl, dressed in white, is running away with the harlequin.
56
A vomiting head appears. And immediately all the people in the bar are vomiting.
57
Fades into a lift where a little negro boy is vomiting. The girl and the harlequin go up in the lift.
58
They go up in the lift and embrace each other.
59
Shot of a sensual kiss.
60
The boy bites the girl in the neck and violently pulls her hair.
61
A guitar appears. And a hand quickly cuts its strings with a pair of scissors.
62
The girl resists the boy, and the latter violently gives her a deep kiss and puts his thumbs over her eyes as if to plunge them into her eye sockets.
63
The girl screams and the boy, with his back turned, takes off his jacket and a wig and reveals himself to be the man with the veins.
64
Then she fades into a white plaster bust and the man with the veins kisses her passionately.
65
The plaster bust is seen with the imprint of lips and hands.
66
The words Elena Helena elhena eLHeNa reappear.
67
These words fade into taps which spout water violently.
68
And these taps fade into the man with the veins, lying dead on discarded newspapers and herrings.
69
A bed appears and hands covering a corpse.
70
Enter a boy wearing a white coat and rubber gloves, and a girl dressed in black. They paint an ink mustache on a dead man's horrific head. And both laugh uproariously as they kiss each other.
71
A cemetery rises around them and they are seen kissing on top of a grave.
72
Shot of a vulgar cinematic kiss with other characters.
73
And finally, quickly, the moon and trees swaying in the wind.
END